So, another year is upon us and with the bells of Big Ben still ringing in our ears it's time to begin the big Board Game Truce of 2015.
For those of you who are new to the blog, or to the idea of a Board Game Truce it is quite simply a single rule that Amy and I have to live by and that rule is:
We shall not purchase any more board games until we have played all the board games we own at least once.
It's quite a simple rule really. What it does mean is that the game playing becomes competitive with a running total of who's won the most games, and for games such as Castle Panic or Pandemic, did we beat the game.
This year we have a total of 83 games to play. Games themselves count once, then each expansion pack also counts, unless it makes sense to combine the packs (judges final decision etc.) For something like Carcassone we would play the two expansion packs we have separately, for Escape: Curse of the Temple we put the two expansion packs we have together into one game.
To ensure we play our favourite games and our least favourite games we've come up with a random generator of games to play.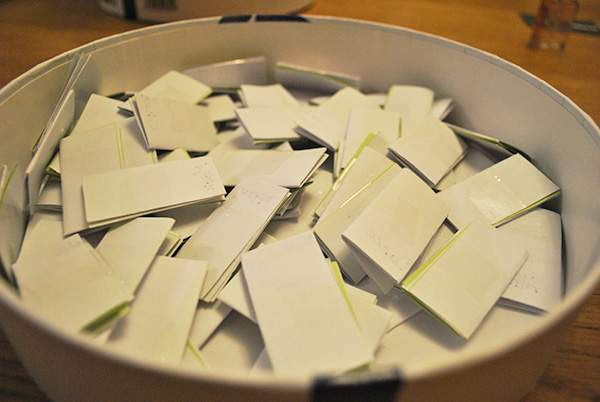 Each game has a piece of paper, and we simply pick the game to play. I suspect a lot of readers expected a contrived MVC SPA, alas no, we've gone for "simple" here.
So, without further ado, here's to 83 challenges and rule re-reading. Let the games begin…